What Window Treatments To Choose For Your Atlanta Custom-built Home
When you're building a custom home in Atlanta, you seek the best finishes possible, and that includes the window treatments. There's a reason plantation shutters top the list of window treatments for custom homes in Atlanta. Their functionality and beauty complement interiors of all types and provide you unparalleled control of the sun's light. With this in mind you can easily create a welcoming environment and highlight the enticing features of your custom home.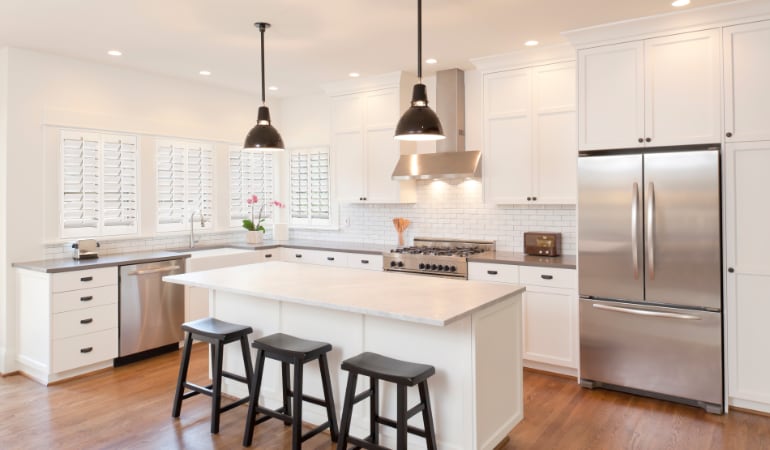 How Do Plantation Shutters Elevate a Custom Home?
If you are looking to to show off your custom home, select window treatments that residents in Atlanta use to add to their home's style. Plantation shutters synchronize seamlessly with homes of various styles. They are a point of emphasis and garner attention from anyone who are used to seeing dated curtains and cheap blinds. Their simple but elegant design is all that is needed to look stunning and ensure a positive influence on guests.
Plantation shutters make the perfect finishing touch for a custom-built home. Their crisp lines and versatile color choices incorporate easily with every decor, so you can confidently ask your builder to include them in every space and not have to worry how they will look in your furnished home.
Plantation shutters can also be designed to fit both standard windows and windows with specialty shapes, so you are able to install them in any location and prevent the extra work of implementing numerous window treatment options. You benefit from having a task lifted from your plate as you figure out your remaining home finishes!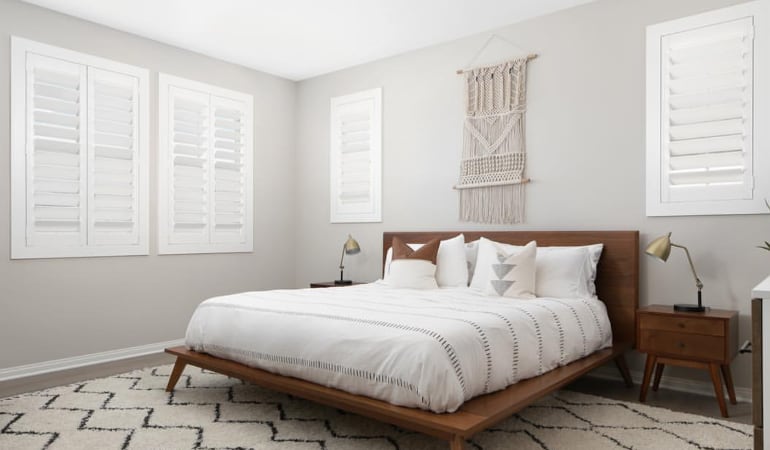 How Do Plantation Shutters Make It Easy To Control Light?
Your visitors will appreciate the look of a sun-splashed home. Even though you're sure to have captivating light fixtures to illuminate your custom home, sunlight has unique qualities that give an area a larger appearance or change its overall feel.
Despite its many benefits, sunlight is constantly changing. Over the course of a day, the quantity of light entering your new home changes, and you have to alter your window treatments to direct the sunlight appropriately. When searching for window treatments for custom homes in Atlanta, residents often choose composite Polywood® and classic wood plantation shutters that let them manage the intensity of sunshine a space gets.
You can use the tilt rod to change the angle of the louvers at times when windows receive direct sunlight to provide a space a more acceptable level of comfort and adjust the louvers again to make things brighter when the sun has shifted to a new location. You might also open the shutter panels for full sunlight to generate an impression of being outdoors and close them again for a cozier feeling.
Modifying the position of the slats also lets you to deflect light. When you tilt the slats up or down, you can illuminate even the darkest corners to make a room seem bigger. You are able to redirect unwanted glare away from your visitors' view and surfaces where reflection occurs without lowering the louvers and completely losing the light. With a gentle movement, you can control the placement and the amount of daylight that radiates in any room for everyone's comfort.
Find The Best Window Treatments For Your Atlanta Custom Home
Showcase your home in its full glory with the eye-catching style of plantation shutters by Sunburst Shutters. We feature time-tested window treatments that Atlanta residents love for their custom-built homes. Contact us at 404-962-8517 or fill out the form below to schedule a free in-home design consultation.