What Plantation Shutter Color Do People In Atlanta Choose?
Which Plantation Shutter Color Should Homeowners In Atlanta Pick?
Plantation shutters are some of the more fashionable window coverings that people in Atlanta pick for their windows. Their timeless style complements many different interior design schemes and blocks sun glare and heat loss from streaming into your rooms.
The durability of a plantation shutter
can also be an added bonus, especially when you have kids or pets.
When there's so many great qualities regarding plantation shutters, the question isn't if you should use shutters for your windows. Instead, the only question is what color of plantation shutters should you choose?
White Plantation Shutters Go With Everything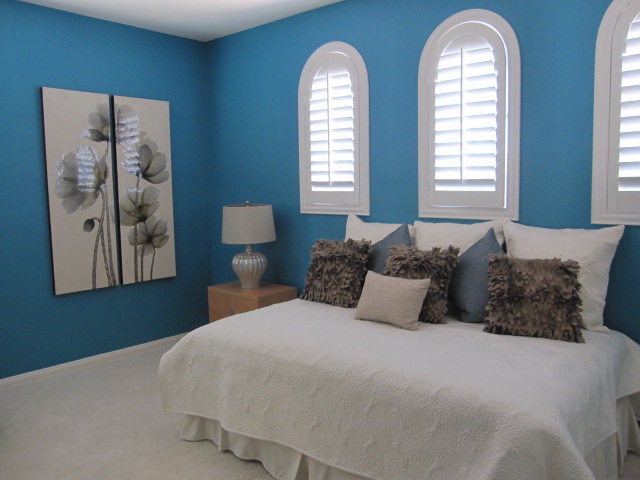 Just like crown molding, white is also the most popular color of plantation shutters for most styles. The reason is simple -- white can blend into so many decor styles. From strong wall colors to neutral decor, white shutters will complement them all. And when you modernize your rooms and start anew, you can keep your white treatments in the space, as they will complement the new style.
Those who prefer white plantation shutters might try to get them crafted from faux wood so they won't discolor as they age. Our Polywood® shutters come in three separate shades of white and are backed by a lifetime warranty that esures the shutters will never yellow, stain or fade. To clean, you'll only need to wipe with a damp rag, which means that your window coverings will keep the same white color for decades to come.
Natural Wood Browns Can Accentuate Some Decor Styles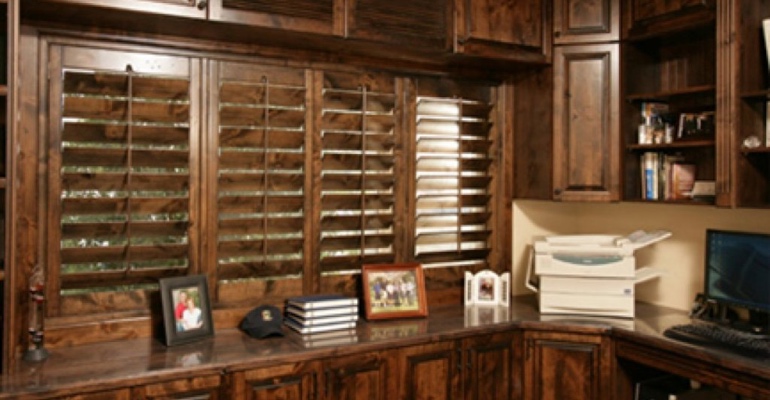 For some rooms, a
plantation shutter with a wood stain
looks best. A wood stain can be a little constricting for outstanding design overhauls, but if you can pair your plank floors or preinstalled trim, then stained shutters might be perfect for you. The stains can give your windows a more natural feeling, perfect if you're looking at a colonial or rustic theme.
A tried-and-true favorite is to pick real hardwood plantation shutters like our Ovation® line. They have an array of stains that will work with most trims and flooring. If you need a rustic shutter, you could try a reclaimed wood plantation shutter. These are perfect if you have a beach house or rustic farmhouse theme in your home.
Strong Colors Are Best With Other Types Of Window Coverings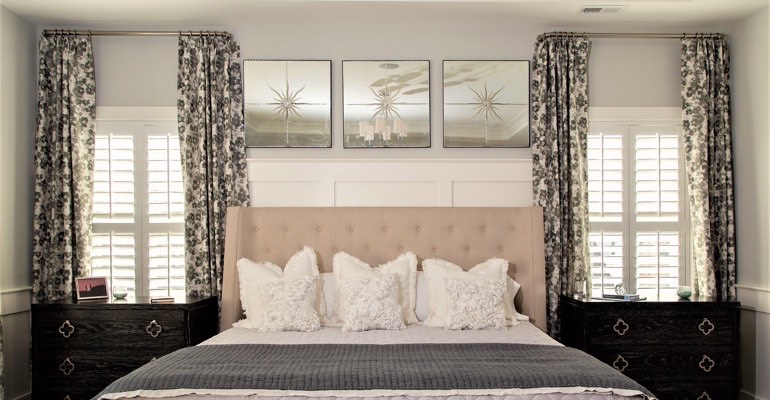 While you could paint your plantation shutters in a accent color, you may want to reconsider. A strong color may work well now, but then you may be stuck with that color until you change the treatment out. White and wood stains have stood the test of time, but will the seafoam green or princess pink treatment still look pretty 5, 10 or 15 years from now? You can change your wall color without a problem, but it may take a replacement window covering to change the color on your plantation shutter.
If you want color, you may want to install a stock accent curtain with your plantation shutter. By including a small bit of color or pattern, you will bring personalization to your windows without losing the benefits of a custom-crafted interior shutter. Then when your style changes, you can retain the shutter and just change the curtain -- or get rid of it altogether.
Sunburst Can Help You Find The Right Color Of Plantation Shutter
Whether it's white Polywood or a natural hardwood, Sunburst can find the perfect plantation shutters for your home. Our reps are the premier experts in Atlanta and will come to you and show you plenty of plantation shutter and window treatment choices. Just call 404-962-8517 and book your in-home consultation today.