How To Choose Between Plantation Shutters, Window Shades, And Window Blinds In Atlanta
Shutters, shades, and blinds–oh my! The range of different window treatments available might seem overwhelming whenever you are looking to choose one for your Atlanta property. Understanding how to differentiate between each kind will aid you in determining which products will look and work best on the windows you are covering. Let's explore the pros, disadvantages, and ideal spots for louvered shutters, window shades, and window blinds in Atlanta.
The Pros And Cons Of Interior Shutters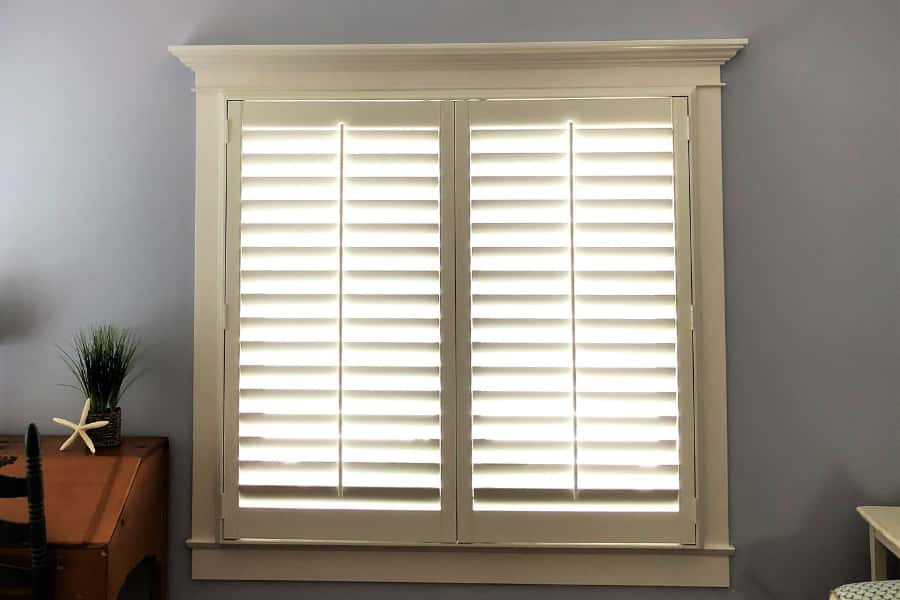 Plantation shutters are constructed of natural wood or faux wood and go into your home where they are permanently affixed to your window with the product's frame built around the window frame. Hinged panels on the inside of the frame swing open for complete sunlight and an unobstructed view or shut tightly to encompass your window for privacy and darkness. If the panels are shut, you are also able to rotate the louvers for some sunshine and adjust them to divert light where you want it.
The Pros
Plantation shutters are distinctive from other products thanks to their specialized design. They not only look quite different but supply many remarkable bonuses for Atlanta properties:

Elevate your home with enticing architectural detail

Find them in neutral hues to blend with your interior at the moment and in the future if you redesign

Provide total privacy and nearly full darkness when shut

Open effortlessly for light and a view

Fit any uniquely shaped window like circles and sunbursts

Redirect unwanted glare with the louvers

A cinch to clean off

Deliver an extraordinary level of energy efficiency

Becomes a permanent feature that increases your Atlanta house's value

A range of customization options to design the appearance you desire while fulfilling your specific requirements
In addition to these perks, faux-wood Polywood® shutters feature their own notable assets:
Unsurpassed durability with resistance to distress due to cold, heat, humidity, and the sun's rays

Last a lifetime without distorting, splitting, or nicking

Patented weatherstripping for exceptional efficiency and money savings
Generally, Polywood shutters will do any job you need a window covering to do, from enhancing your window's beauty to stopping cold drafts and destructive sun rays. And they work and look just as superb decades later as the day you installed them.
The Cons
Louvered shutters' lone downside is that they can only be found in neutral colors. Although their versatile hues match all types of style choices, you'll have to opt for window shades or blinds in Atlanta if you are determined to install window treatments in vivid colors or patterns.
How To Utilize Louvered Shutters
You can utilize interior shutters on any window in your Atlanta home. Hand-tailored shutters accommodate any size and shape of window without sacrificing functionality. Put them on half-circle, rake angle, and sliding glass door windows just as effortlessly as standard square or rectangular windows.
You are also able to position Polywood shutters in any area. Pick them for their longevity and energy efficiency in humid bathrooms, cool attic dormers, or sun-filled south-facing rooms. Shutters even work great in family areas and kids' rooms as they don't have cords that pose a safety hazard.
The Pros And Cons Of Window Shades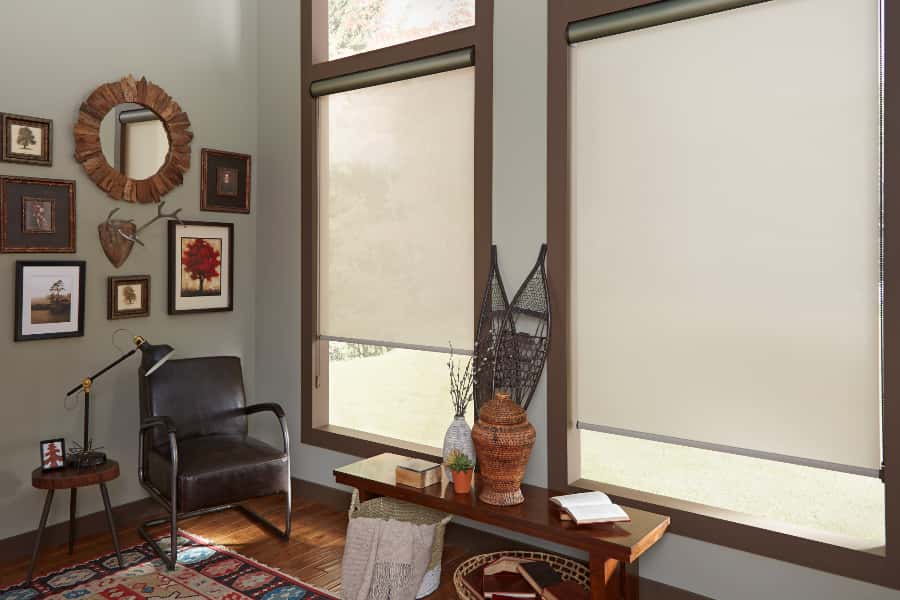 Window shades can be found in a range of differing styles, but, in general, all have a layer of fabric mounted over your window. You typically pull the material down or up to enclose and uncover your window via the bottom pull bar or corded mechanism, although you can find motorized functionality too.
Window shades don't have slats to manage illumination and privacy, but sheer or more freely woven fiber shades can let light into dark spaces while blocking the view into your interior. Or you could consider top-down/bottom-up styles that allow you to uncover the upper part of your window for sunlight while maintaining your privacy below.
The Pros
Atlanta residents prefer window shades due to the fact they come in many different colors, materials, and styles. You'll find shades with standard colors and vibrant tones, single color or dramatic patterns, transparent or blackout types, pleated fabric or fibrous materials, and many other choices. If you want a unique design element while redesigning a room, window shades in the perfect color or pattern can enhance your overall design and shield your windows.
Individual window shade kinds have their own perks as well. Roller shades have a classic minimalist feel. Cellular shades will boost efficiency. Tumble shades work well on door windows. And sheer shades offer a pleasant blend of light and privacy.
The Cons
Window shades don't offer the resiliency of solid window treatments and are often a chore to clean. Their fabric materials will in time fade due to the sun or might tear, develop mold, or be tarnished with stains. You should plan on replacing window shades in less than five years as they break down or you alter your decor.
Window shades also have less flexibility in adjusting exterior light and privacy than plantation shutters. Even drawing them up a bit means you forgo your privacy on some of the window and you're unable to adjust how sunshine floods in. And a range of window shades will display shadows if your interior is illuminated during the night. And rectangular window shades in Atlanta compel you to decide between hiding a specialty window's unique size or keeping the window uncovered all the time.
How To Incorporate Window Shades
Most Atlanta residents choose window shades if they want bold or patterned window coverings to blend with their design. They work best in less active spaces where they can avoid damage from persistent engagement.
You can also utilize various kinds of window shades for their particular purposes. Go with cellular shades to assist in blocking exterior airflow. Slim roller shades work in places where you need to avoid a bulkier window treatment. Blackout shades keep out light so you can sleep. Woven fiber shades bring a feeling of nature to your property. And of course, custom shades will always have more appeal and function more reliably on your windows than off-the-shelf products.
The Pros And Cons Of Window Blinds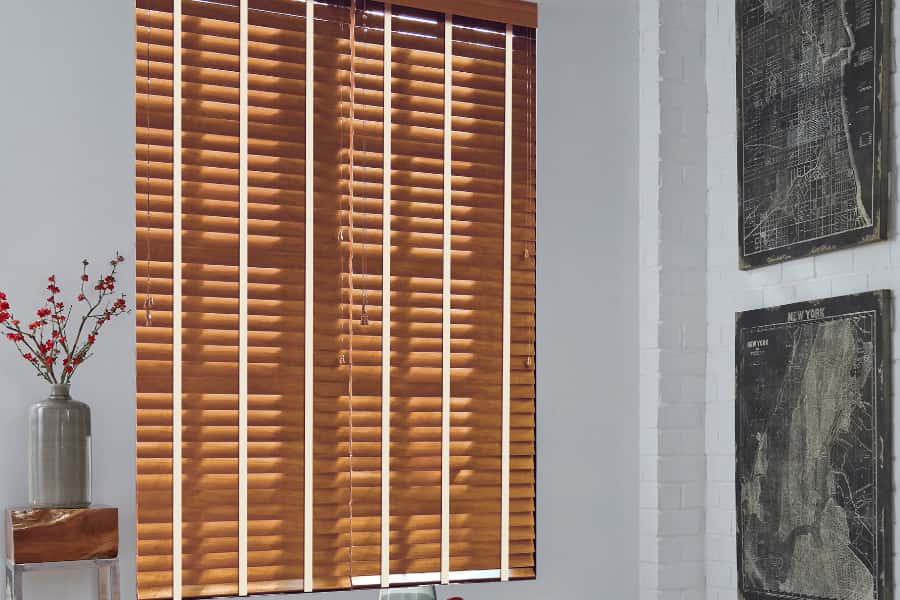 Window blinds have movable slats built from a solid material that you let down over your windows to shield them. Blinds operate with pull cords or cordless lifting mechanisms. Along with shielding windows with blinds, you are also able to tilt the slats open or closed with a rod for more command over exterior light.
The Pros
The virtues of window blinds are dependent on what they're made of. By design, all blinds cover windows to block exterior light and views into your Atlanta home, but their type of material and construction are essential in how effectively they accomplish this. You may notice sunshine and shadows with cheap vinyl blinds. Metal and vinyl blinds also curve and fracture with ease, which leaves unsightly spaces that let in outside light. For these blinds, their low price and short lifespan make them suitable mostly as temporary window treatments.
More resilient natural wood and faux-wood blinds have sturdier slats that envelop windows much better. You won't be able to look through them, and they don't break quickly. The natural wood and composite components, mixed with the attractive horizontal lines of the slats, provide a more elegant appearance too. Top-end real wood and faux-wood blinds are available in adaptable neutral shades that work well in any space.
Blinds allow you to control the amount of light that passes through your windows. You may draw them up for an unrestricted view and full sunshine or lower them for privacy and a dark room. With the blinds lowered, you can also turn the slats for a restricted view and some natural light.
The Cons
Wood and faux-wood blinds have a similar appearance to interior shutters but aren't nearly as durable. The cords that hold the slats together will unravel over time, and wood slats could warp and split from too much humidity or drastic temperature variations. Blinds also come with a fair number of elements that will make them a challenge to clean, and the common pull cords could stick or get tangled if you try to adjust them.
Although custom blinds will fit your windows perfectly, they won't have the complete protection around the borders that shutters do since they aren't built into a frame. You'll also discover that both window blinds and shades in Atlanta will swing and slap your window if run into or impacted by a gust of air. That movement lets people see in and permits light.
How To Utilize Window Blinds
High-end blinds are a great choice in any area for rectangular or square windows. Only choose water-resistant faux-wood blinds in moist locations like bathrooms and kitchens. And automated or cord-free blinds offer safer products in the event you have kids or pets.
Sunburst Has An Incredible Selection From Louvered Shutters To Window Blinds And Shades In Atlanta
Would you like to know more about the the variances between plantation shutters, window shades, and window blinds in Atlanta? Sunburst Shutters Atlanta offers the best selection of premium window treatments around and will is pleased to answer all of your questions. We conduct complimentary in-home consultations to demonstrate our options and give you a chance to decide which window treatments look best in your residence. Schedule yours by placing a call to 404-962-8517 or submitting the following form.