The Top Nursery Window Treatment Ideas In Atlanta
As an expecting parent in Atlanta, your goal is to have every detail of your new baby's nursery just right -- and that includes the window treatments. But in advance of selecting your window covering, remember that versatility and safety are essential. Babies may pull down drapes or get caught in the pull cords of blinds. These coverings don't block exterior light and drafts for optimal sleeping conditions either. Alternatively, choose safety-focused, energy-efficient plantation shutters or cellular window shades as window treatments for your nursery in Atlanta.
Interior Shutters Keep Your Nursery Safe, Cozy, And Stylish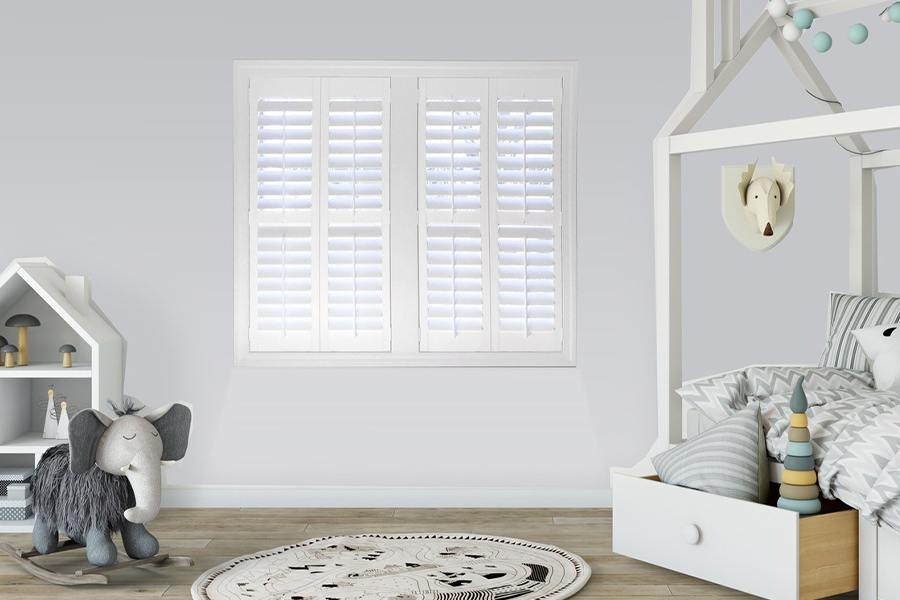 Louvered shutters may not be first on your list for nursery window treatment ideas in Atlanta, but they should be! These classic window treatments look incredible in every space. Their sturdy panels create an appealing contrast to the softer features typically found in a child's nursery. You might use
white faux wood Polywood® shutters
in rooms with vivid or more delicate color choices. Natural wood shutters may be more suitable if your nursery consists of more natural components or you wish to coordinate with the current wood trim. And when you update the design as your loved one gets older, your shutters will continue to work well with the area's refreshed feel.
Interior shutters utilize a particular layout that makes them perfect for kids' bedrooms. As an alternative to hanging drapes or corded options for a loved one to pull on or get tangled in, interior shutters have rigid panels with movable louvers set in a frame that surrounds the window. They even clean with ease when they get those inevitable smears from little hands.
Shutter louvers and panels provider several options for adjusting exterior light and privacy in your baby's room as well. Swing open the panels for a sun-filled playroom or close the panels and rotate the slats out to allow partial outside light and angle it to the place where your child spends time. Then close the panels and louvers to keep out nearly all light for naps and bedtime.
Closed plantation shutters stop drafts too. Air won't go through real wood and faux wood as it does through fabric window treatments. And exceptional Ovation® and Polywood shutters use industry leading workmanship to minimize gaps where air could slide through. Polywood shutters also have exclusive weather sealing that makes them the most energy-smart nursery window treatments in Atlanta and makes certain your room is always cozy for a soothing rest.
Cellular Shades Lend Added Efficiency and Versatility To Nursery Windows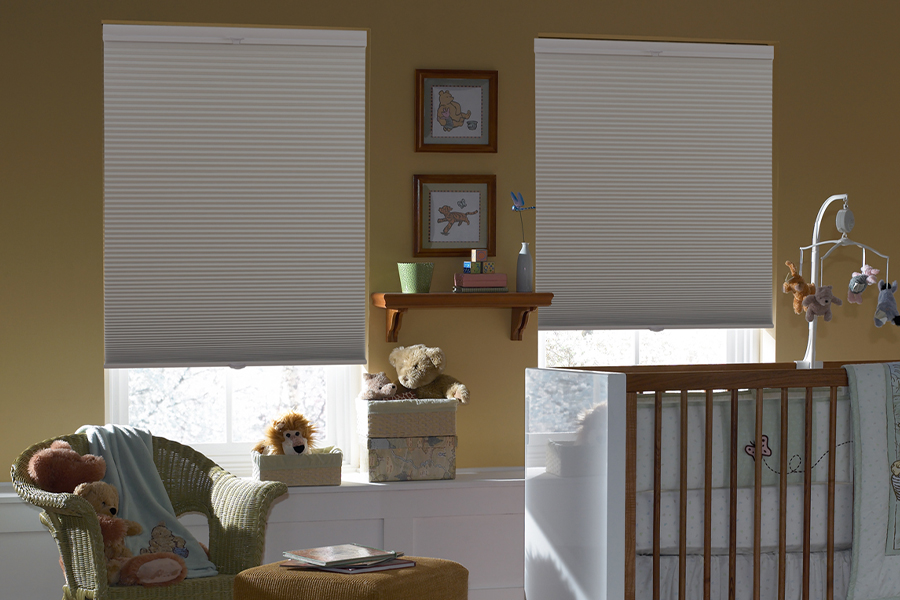 If you would like a softer option for your nursery window treatments,
consider cellular shades.
These window shades come in various patterns, materials, and colors for you to choose from. You'll even come across different types including top-down/bottom-up shades that give you additional adaptability with outside light and privacy or cordless shades that a child isn't able to become ensnared in.
The top asset of cellular shades is their superior efficiency. Their unique design creates little pockets that catch air entering through your windows before it enters the nursery. They help keep the area at a comfortable temperature and utility expenses down.
Need Additional Nursery Window Treatment Ideas In Atlanta? Speak With Sunburst
Regardless of whether you want nursery window treatment ideas in Atlanta or choices for a different area of your home, Sunburst Shutters Atlanta is here to help. We carry various window fashions that make your property more attractive and comfortable. Reach out to 404-962-8517 or fill out the following form to schedule a free on-location appointment and find incredible window treatments in Atlanta.