Home Office Window Treatments In Atlanta That Work For You
If remote work is your new way of life these days, you might need assistance in upgrading your Atlanta home office. You can begin with your window treatments. Want to see a quick comparison of the different home office window treatments?
Here is a link to our window treatments chart, for window treatments perfect for your home office.
Products like plantation shutters and motorized window shades are sensible home office window treatments for Atlanta residents who want to keep comfortable and focused while working without giving up your home's personal charm. These treatments are even capable of helping you look your best during video calls! Here's how to employ these window treatments to your benefit.
Plantation Shutters: Versatile Home Office Window Treatments In Atlanta
Remote work can be challenging, so select home office window treatments in Atlanta that will make the workday more pleasant. The time-tested craftsmanship of plantation shutters makes them a preferred choice when you'd like to manage your workspace's lighting and comfort levels.
An advantage of working from your home office is that you are in charge of the comfort levels. But keep in mind, you aren't looking to inflate your utility expenses by using your furnace or AC every hour of the day. Insulating Polywood shutters are a smart alternative. On a hot, sunny day, close your Polywood shutters to reduce the interior temperature and keep the glare off your monitors. In the winter, that same insulation fights off those cool drafts.
Want to reduce electric bills or tired of poor lighting? Shift the louvers on your plantation shutters for natural light that you can move away from your monitor and into other parts of your room. If needed, close the louvers again to limit distractions such noises and passersby. Keep them shut to maintain privacy at night if you need to work late.
If you're looking for pizzazz in your home office, the attractive features of interior shutters create an elegant architectural detail that gives a boost to even the most ordinary windows. They are available in a multitude of adaptable colors, too. Whether you select crisp white shutters or a warm and welcoming hardwood shutter, your upgraded home office window treatments will have you thrilled to be working from home!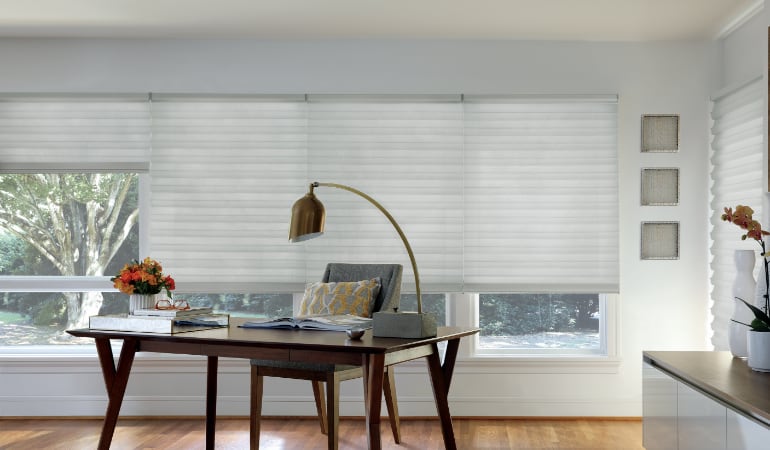 Motorized Window Shades Are A Smart Choice for Atlanta Business People
Like Polywood shutters, a wide array of customizable shades offer coverage and insulation for your home office windows. Blackout roller shades minimize distracting glare. Energy-efficient cellular shades ward off those cold drafts and maintain a room's warmth. Transitional shades give you the option of soft, filtered sunlight or no light at all.
Window shades are available in various materials and colors to suit your tastes and create the right ambience for your work space. You may enjoy a stunning choice like Roman shades that provide a great background during virtual meetings or something simple like roller shades to prevent disruptions.
Once you know what style of window shade you plan to buy, get the motorized version to bring even more convenience to your work area. Motorized window shades operate with a remote control instead of your hands. This gives you numerous options for adjusting the amount of light in your home office.
When the sun moves and a glare interrupts your attention, you can close your shades with the press of a button without getting up. If too much light is making you look washed out on a video call, or you see that your work area resembles a dungeon on screen, you can lower or raise your motorized shades from your desk without disrupting meetings. Your boss and colleagues will be amazed by your work from home set-up when you customize your home office window treatments in Atlanta.
Are You Still Wondering What Window Treatments Is Right For Your Office? We've Put Together This Chart To Help Compare All Of Your Choices.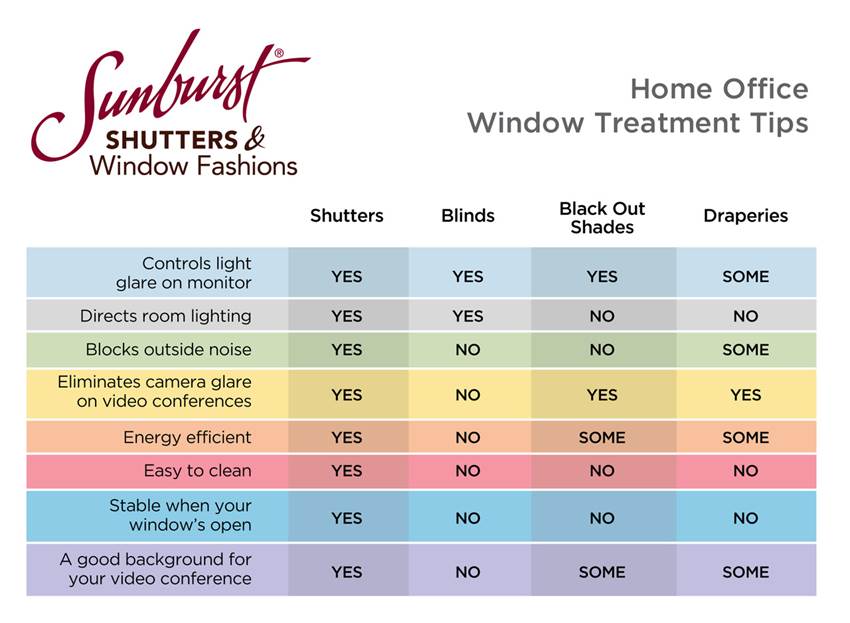 Get the Most Out Of Your Atlanta Home Office with Window Treatments From Sunburst Shutters
You'll work better when your window treatments keep you comfortable and distraction-free. Turn to the window treatment experts at Sunburst to select the best options for your home office. To request a free in-home consultation, call us at 404-962-8517 or complete the form on this page.