Five Ways To Create The Ideal Media Room In Atlanta
Today's home theater equipment makes it easy to enjoy gaming, movies, and your favorite TV shows in the comfort of your own media room. This is the reason why families in Atlanta are increasingly creating home media rooms. You might be wondering: What should you have to make an amazing home media room? From the best window treatments to soundproofing, here are five suggestions for creating a media room in Atlanta that everyone will love.
#1 Take Charge Of Exterior Light With Interior Shutters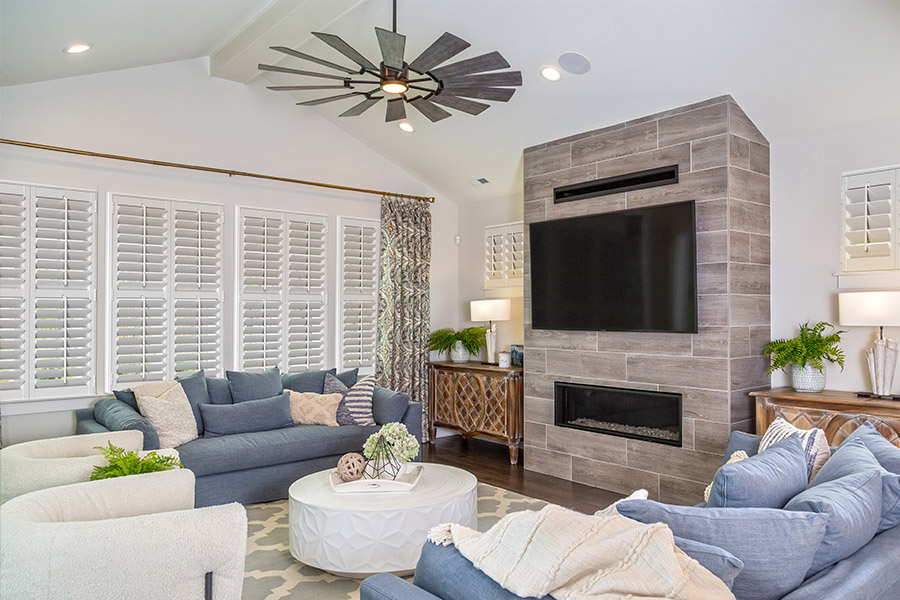 Few things can spoil your favorite show like sun glare on the television. Dimmable lights are nice, but what about outside light? Install
louvered shutters for window treatments
in your media room in Atlanta for superior light control. Interior shutters include a frame that surrounds your window to keep out light. They also consist of panels on hinges with adjustable slats that shut tightly to provide nearly complete blackout. You might even manipulate the slats to a different angle to redirect exterior light off televisions or your eyes without having your area seem like an underground cavern.
If you select Polywood® shutters, you'll get improved energy conservation as well. These composite shutters stop UV rays and cooler breezes to allow your media room to maintain a pleasant temp. They are capable of preventing up to 30 degrees of heat transference, saving you money on utility expenses.
#2 Upgrade Your Media Room's Audio Experience With Some Minor Renovations
As soon as you address the lighting in your Atlanta media room, switch to the audio experience. Drywall is adequate for walls in media rooms, but your basement's concrete devastates sound quality. The simplest way to minimize reverberation in your basement media room is by putting up sound absorbing panels. When you want to perfect the sound quality in your media room, go with DIY sound absorption or sound barrier materials. Then add in window treatments, like shutters, to control exterior noise.
#3 Invest In The Proper Devices
The appropriate equipment will provide excellent audio as well. Begin with your surround sound system. Many homeowners select wireless systems as you won't have to worry about concealing wires.
You also need a fantastic TV. LED and LCD TVs have brilliant pictures, but 4k televisions typically have better contrast and wider viewing angles. You could also go with a projector-screen combo for a large media room. No matter what video option you pick, mount it further up your wall for improved viewing angles.
#4 Choose Comfy Seating Options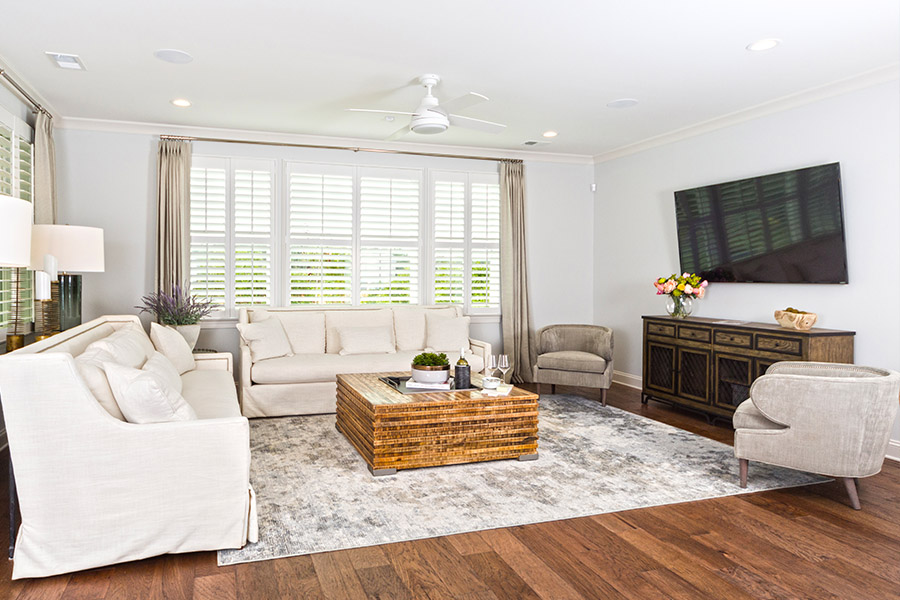 You can't be entertained by the big game without a comfy seating option. If you want home theater vibes, select the appropriate seating with reclining backs and incorporated drink holders. If you plan on gaming, get some well-designed gaming chairs. A spacious sectional is a good idea as well. And don't forget several plush throw blankets and maybe a pillow or two to hunker down for those nights of binge watching.
#5 Set The Tone With Your Favorite Theme
You can decorate however you want when creating a media room in Atlanta. Do you associate with a specific movie franchise? Do you want to feel like you're within an actual theater? Replica movie posters, a classic popcorn machine, and bold colors can promote the purpose of your media room.
If you're looking for a more toned down feel, design around a favorite color palette. Warmer shades with wood finishes and complementary Ovation® shutters will make your media room feel snug. You might also make it light and welcoming with softer, neutral shades and Polywood shutters.
Consult With Sunburst About Window Treatments For Your Media Room In Atlanta
The experts at Sunburst Shutters Atlanta are here to help you pick the perfect window treatments for your media room. At your free in-home meeting, we'll show you how different solutions look in your home before making your final selection. Schedule yours today by dialing 404-962-8517 or by completing the following form.