Farewell Old Fashioned Window Treatments For Entry Door Sidelights In Atlanta, GA!
The entry door is one of the first things a guest notices about your Atlanta house when they land on the doormat. The glass sidelights on either side enhance the beauty of the entry door. But, they diminish your home's privacy. That's why window fashions are a perfect solution for the sidelights on your entry door.
A share Atlanta residents have opted for traditional window treatments for sidelights, like blinds and shades. But they may not have realized there's a more stylish option: entry door sidelight shutters.
Blinds & Shades For Entry Door Sidelights
Blinds and shades could be the first window treatments you think of when you consider sidelights. They're available in home improvement stores in sizes that approximately fit your entry door sidelights. And youhave a grasp on how to mount them and open and close them.
Remember that sidelight shades and blinds include a handful of considerations to keep in mind before going shopping for them. First, they are known to sway every time the door is used, when the wind rattles the bars against the glass. This creates annoying noise. A fix is to tie them down at the bottom. But this would possibly change the look and may not reduce the noise. Second, blinds and shades give you privacy but are poor at temperature control. The thin material is not effective at blocking the outside temperature - hot or cold. And third, neither shades nor blinds have the custom look that wows a guest as they enter through the entry door. Plantation shutters do.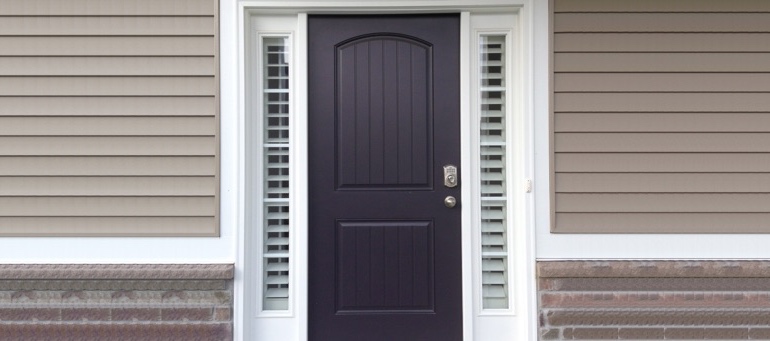 Plantation shutters
are the modernized window fashion you've been looking for in Atlanta. Crafted from solid wood or wood substitute, shutters for entry door sidelights are fixed to the door's frame while allowing the louvers to move. Now opening and closing the entry door does not result in any noise.
Tilt the louvers closed, and plantation shutters give you
ultimate temperature control and privacy
. Easily tilt the louvers by shifting the tilt rod to bring in more of the scenery and the sunshine. And
Polywood®
plantation shutters louvers block 30° of temperature and reduce airflow by up to 45%.
The charm of plantation shutters for sidelights goes beyond the energy savings. With a collection of frame styles, wood stains, louver sizes, and a paint matching program, you finally have the modernized look you've been looking for. Our experts guide you in picking custom window shutters for your entry sidelights. And we'll set them up to fit your sidelights flawlessly.
Say Hi To Entry Door Sidelight Shutters For Your Atlanta Home
Ready to say farewell to outdated window treatments and say hello to shutters for entry door sidelights? And if you are interested in matching shutters for your
patio door
or
French doors
, we sell those as well. Call
404-962-8517
or fill out the form below to schedule your free in-home design consultation today!